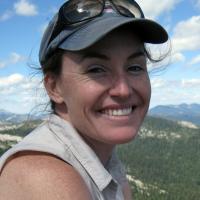 Research Focus:
I study the capacity for the public and wheat producers to respond to climate change.
Research Abstract:
Changes in climate will require changes in the production of wheat agriculture and the surrounding communities in the Inland Pacific Northwest. This social science research presents findings on how wheat producers and residents of rural counties 1) perceive of climate change risk and 2) describe who should bear the burden of adaptation or mitigation costs. Surveying rural and urban strata of the voting public shows differences between rural communities and the distant urban centers that have become political-economic hubs. Comparing the perspectives of producers and rural community residents will provide needed baseline information to inform climate policy at varying scales. The policy-relevant information can inform scenarios to address adaptation and mitigation needs within the region's industrial agricultural system. In the fall of 2012, 1,300 urban and rural residents were surveyed across the tri-state Pacific Northwest region. Similarly, from December 2012 through February 2013, 2000 wheat producers were surveyed by mail. We conducted weighted cross-tabulation and multi-variate analyses of variables such as origins of climate change, adaptability, risk perception, burden of cost, location, education on climate change, and local food sources. Significant findings show that the general public has observed changes in weather over their lifetime (83%) but more than half of them attribute these changes to natural causes. Agricultural producers show varied levels of adaptability depending on their current cropping practices. We analyze the extent to which adaptability is connected to their perspectives on climate change. We use these two stakeholder groups to provide an analytical structure to compare geographic location as well as community position as a means to inform policy. The findings have implications for local planning and management by elucidating limitations and opportunities to effective climate adaptation and mitigation as well as community sustainability.
Biography:
Leigh grew up in the mountains of California and was always interested in natural sciences, but she found that that her specialties were best used studying human communication about nature. She focuses on climate change communication and endangered species conflicts. She completed her PhD in Wildlife and Fisheries Sciences at Texas A&M University in August 2014. She holds degrees in Environmental Humanities, MS from the University of Utah and Environmental Science, BA from Willamette University. Off-campus Leigh enjoys hiking, birding, gardening and knitting.
Publications and Presentations:
Bernacchi, L, Reyna, M., Wulfhorst, J., Kane, S. Public Perceptions of Climat Change Risks to Pacific Northwest Agriculture. University of Idaho (poster).
Bernacchi, L. and J.D. Wulfhorst. 2017. Crop Consultants as "Climate Consultants": An Extension Opportunity for Climate Change Communication. Journal of Extension 55(1):1FEA3.