REACCH relies on contributions from many regional, national and international partners and projects to achieve successful transdisciplinary efforts. Our valued contributors are described on this page. See also our poster, Building on a REACCH Foundation [contact: Sanford Eigenbrode].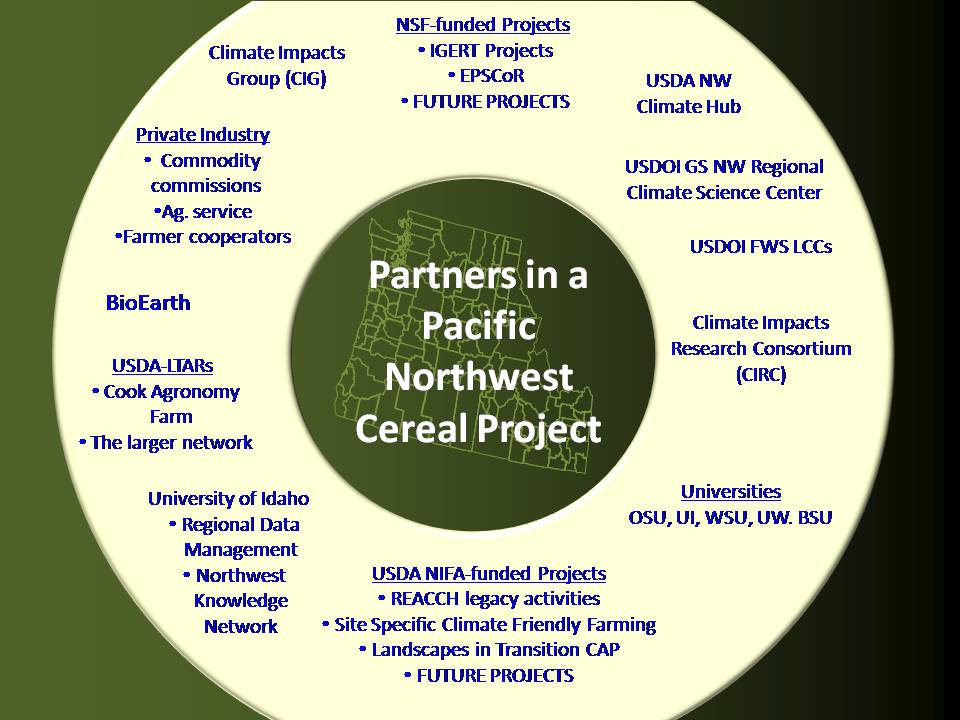 International Partnerships
REACCH engaged with the international cereal community by hosting a workshop-style conference in 2015. This global network of professionals will continue to address the implications of climate change for cereal-based systems in arid regions.
View posters, presentations, and research abstracts from the conference.
Scientific Advisory Panel
The Scientific Advisory Panel (SAP) provides guidance for the project by attending annual meetings and reviewing project progress. They review noteworthy achievements and accomplishments, recommend opportunities for growth, and share their expertise in climate, long-term research, and food systems. In 2015, they commended "the entire REACCH team for its depth of science and levels of integration."
Collaborators
BioEarth Project, Washington State University
Biofuels Cropping Systems Research and Extension Project, Washington State University
Climate Change CAPs, University of Florida, Iowa State University
Climate Friendly Farming, Washington State University
Idaho EPSCoR, University of Idaho
NASA Innovations in Climate Education (ICE) project, University of Idaho
Northwest Knowledge Network, University of Idaho
The NSF-Toolbox Project, University of Idaho
NSF-IGERT, Washington State University
NSF-IGERT, University of Idaho
Site-Specific Climate Friendly Farming, Washington State University
USDA National Agricultural Library (NAL)
Partnerships
Agricultural Model Comparison and Improvement Project (AgMIP)
Climate Learning Network
Columbia River Supply and Demand Forecast
Consortium of Universities for the Advancement of Hydrologic Science, Inc.
DataONE
Department of Interior Northwest Climate Science Center (NW CSC)
Extension implementation Program for Integrated Pest Management (IPM) in Idaho 2014-2017
Helping Orient Indian Students and Teachers into STEM (HOIST)
Idaho Regional Optical Network (IRON)
Kellogg Biological Station Long-Term Ecological Research Site (KBS-LTER)
Northwest Regional Biocarbon Initiative (NW RBI)
Oregon Climate Change Research Institute (OCCRI)
Pacific Northwest Climate Impacts Research Consortium (CIRC)
National Socio-Environmental Synthesis Center (SESYNC)
United States Department of Agriculture (USDA) Northwest Climate Hub
United States Department of Agriculture (USDA) Organic Footprints Project
United States Environmental Protection Agency (US EPA)
United States Forest Service
Washington Department of Ecology
REACCH Legacy
Expert Working Group
Expert Working Group
The Wheat Initiative was created in 2011 to promote and coordinate wheat research internationally. Its goal is to facilitate the development of improved varieties of wheat and their use to increase food security. The Wheat Initiative is made up of Expert Working Groups (EWG) on various aspects of wheat science. The Expert Working Group on Wheat Agronomy was established in 2016, partly motivated by the REACCH international conference. Founding members include Bill Pan and Sanford Eigenbrode of REACCH. Reflecting the philosophy of REACCH, the Wheat Agronomy EWG is "a cross-disciplinary systems approach to identify and remove factors responsible for regional yields gaps. It aims to bring together experts from a broad range of disciplines (vs. a silo approach) who would all contribute to the enhancement of the wheat phase as part of a systems agronomy approach that will meet the global challenges facing wheat growers and end-users today and well into the future."
Landscapes in Transition (LIT)
Landscapes in Transition (LIT)
The University of Idaho, along with the other REACCH partners, was awarded a $3.4 million USDA NIFA grant in June 2017. The goal is to help farmers diversify their crops, boost profits, reduce fallow and increase the adaptability of wheat based-farming to future environmental changes. Building upon the transdisciplinary research of REACCH, the project will focus on three distinct climate zones based on precipitation and terrain. Researchers will test alternative farming strategies including adding winter peas and cover cropping with livestock grazing to crop rotations. As well as determining the overall best agronomic practices for these alternative crops, the impacts of diversification on pests and weeds, soil health indicators, greenhouse gas emissions, nitrogen and water budgets, and overall profitability will be assessed.
Long-Term Agroecosystem Research (LTAR) Network
Long-Term Agroecosystem Research (LTAR) Network
In 2011, the WSU Cook Agronomy Farm was designated one of the ten sites in the USDA Long-Term Agroecosystem Research Network as an outgrowth of the REACCH project. Following in the footsteps of REACCH, the LTAR focuses on supporting long-term research on cropping systems and precision agriculture by supporting graduate education and outreach efforts. The Cook Farm LTAR is a cornerstone for transdisciplinary research partnerships and will increase our region's capacity for grower-oriented research.
National Climate Change and Agriculture Projects
REACCH was one of three Coordinated Agriculture Projects of its size in the United States at the time of the grant. Others included Sustainable Corn and PineMap.