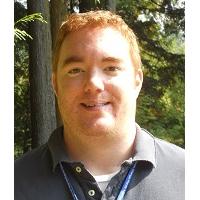 Research Focus:
Ecoinformatics--Data science
Research Abstract:
One of the challenges of modern science is being able to consume the deluge of different kinds of data coming from a multitude of sources and organize those data for analysis. My research is focused on collecting, managing, and analyzing 'big' data using novel computational, statistical, and visual techniques. I emphasize open science methodology: publication of research data, computer code, and other materials that explicitly enable re-use and repeatability of research methods. By combining data that are produced though remote sensing systems like satellites and aircraft, local monitoring systems such as flux towers and weather stations, field observations collected by people, and other sources, we can develop a more complete understanding of the world around us and the processes that make it work.
Biography:
Edward Flathers received his undergraduate degree in English with a minor in computer science and went on to work as a software developer for the Idaho geospatial data clearinghouse, INSIDE Idaho. There, he developed an interest in spatial data and geographic information systems. He went on to earn a master's degree in statistics with a focus on supporting domain scientists through statistical consulting. His research interests are in data management, modeling and simulation, and spatial statistics.
Publications and Presentations:
Flathers, E., Seamon, E., Gessler, P. Server-Based Extensions to an OAIS Archive for Science Data Management. American Geophysical Union Fall Meeting, Dec. 15, 2014, San Francisco, CA.
Flathers, E., Kenyon, J. & Gessler, P.E. 2017. A service-based framework for the OAIS model for earth science data management. Earth Science Informatics, 10(3), 383-393. doi: 10.1007/s12145-017-0297-3
Flathers, E., and Gessler, P.E. 2017. Building a Framework for Big Data and Open Science to Model Soil Organic Carbon in the Northwestern United States. University of Idaho. Technical Report UI-2017-1, p. 45.