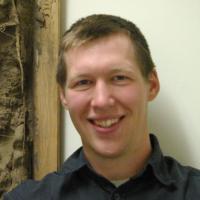 Research Focus:
Nitrogen loss from irrigated cropping systems
Research Abstract:
The transport and transformation of N at all scales is of paramount importance to humans. Not only is N crucial for our survival, being a central building block in protein, but N can also be toxic when found in high concentrations in the wrong locations. This work focuses on the importance of the place of N at three distinct scales. 1.) At the seedling root system scale we examined the effects of the concentration of N on causing symptoms of root toxicity, and found increasing ammoniacal-N to increase the symptoms of toxicity to roots. 2.) At the field scale, cover cropping and reduced tillage where assessed for their potential to decrease soil NO3- leaching and increase of N exportation efficiency. 3.) At the national scale a research project database was used to assess the amount of research that has gone into the development of best management practices.
Biography:
Isaac Madsen is originally from Portland, OR. Although not originally from an agricultural background he has a life long interest in agriculture, food systems, as well as basic plant and soil science. He is passionate about the rhizosphere and producing videos of roots growing.
Publications and Presentations:
Maaz, M.T., W.F. Schillinger, S. Machado, E. Brooks, J.L. Johnson-Maynard, L.E. Young, F.L Young, I. Leslie, A. Glover, I.J. Madsen, A. Esser, H.P. Collins, and W.L. Pan. 2017. Impact of climate change adaptation strategies on winter wheat and cropping system performance across precipitation gradients in the inland Pacific Northwest, USA. Front. Environ. Sci. 5:23. doi: 10.3389/fenvs.2017.00023
Pan, W. L., T. M.Maaz, , I.J. Madsen, M.Reese, W. A.Hammac,, D.Wysocki, , J. B.Davis, M.Wingerson, , and J. Brown. 2017. 4R nitrogen management when integrating canola into semi-arid wheat. Crops and Soils 50: 3: 16-661. doi:10.2134/cs2017.50.0309
Madsen, I., and Pan, W. 2017. Selecting Nitrogen Source to Minimize Damage Caused by Free Ammonia. Washington State University. Technical Report 17-1, p. 53.
Madsen, I., and Pan, W. 2016. Establishing Safe Rates for Banding Urea Fertilizer Below Canola at Planting. Washington State University. Technical Report 17-1, p. 61.
Pan, W., Madesn, I., Bolton, R., Graves, L., Sistrunk, T. 2016. Ammonia/ammonium toxicity root symptoms induced by inorganice and organic fertilizers and placement. Agronomy Journal. 108(6): 21875-2492.
Pan, W., M. Reese, T. Beard, I. Madsen, and T. Maaz. 2016. Subsoil Quality: Do our subsoils provide wheat and canola roots with ample water and nutrients during grain filling? In 2016 Dryland Field Day Abstracts: Highlights of Research Progress. Dept. of Crop and Soil Sciences Tech Report 16-1, WSU, Pullman, WA.