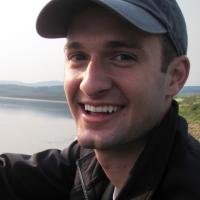 Research Focus:
Developing decision support systems for farmers using precision nitrogen management technologies
Research Abstract:
"Globally, around 60% of synthesized N is applied to cereal crops. In these cereal systems, nitrogen use efficiency (NUE) is approximately 33%. In other words, approximately one-third of applied N is recovered in harvested grain, leaving two-thirds of applied N for subsequent crops or as potential gaseous plant emissions, denitrification, surface runoff, volatilization, and leaching. Poor NUE represents not only a financial loss to the grower, but an environmental threat contributing to N2O emissions and degradation of surface and ground waters through leached NO3-. Current fertilizer recommendation for the Inland Pacific Northwest region of the United States are based on uniform, whole-field applications that result in large variability in crop N use across field landscapes. Precision N management has been proposed as a solution to decrease negative environmental and economic impacts of variable crop N use and low NUE in cereal production systems. Creating site-specific management zones (SSMZ) is a common method to generate prescription maps for variable N fertilizer applications. Areas of the field with similar attributes (e.g. soil properties, fertility, terrain) are grouped and treated as sub-field sections or SSMZ. Prescription fertilizer application maps are created based on SSMZ that estimate crop performance and the associated N fertilizer requirements, and then variable rate (VR) technologies are used to apply site-specific N fertilizer. This method of precision N management has had varying success in improving crop NUE and economic performance. The objective of chapter 1 in this thesis is to evaluate site-specific wheat performance under VR and uniform N applications using yield, protein, NUE, and NUE components as performance criteria. The goal is to determine if current practices adequately improve crop performance with regards, not only to yield and protein, but to N fertilizer use efficiencies. The objective of chapter 2 is to evaluate the performance of rainfed, winter wheat among field divisions created using: 1) typical methods of SSMZ delineation; and 2) performance classifications derived from NUE and NUE components. These objectives could inform science-based evaluation and decision-support systems for precision N management that are based on easily measureable crop performance data."
Biography:
I received my BS in Microbiology from Brigham Young University in April 2014 and joined Dr. Dave Huggins' lab in Fall of 2014 as a Master's Candidate for WSU's Department of Crop and Soil Science. My main research and career interests are in water and soil quality conservation. I enjoy fly fishing, hiking, and spending time with my wife and son.